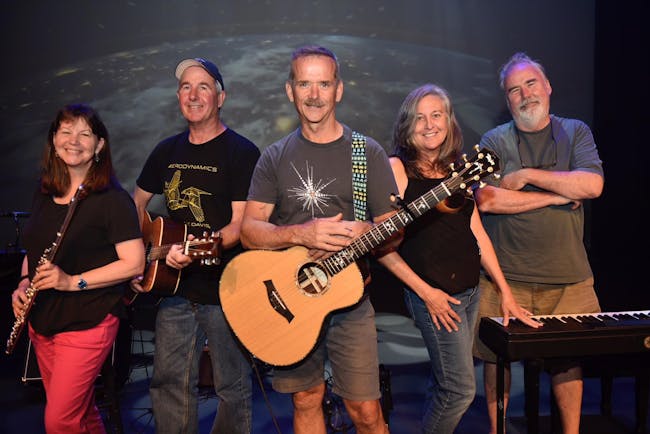 What better way to celebrate Apollo 11's 50th anniversary than with a band of astronauts!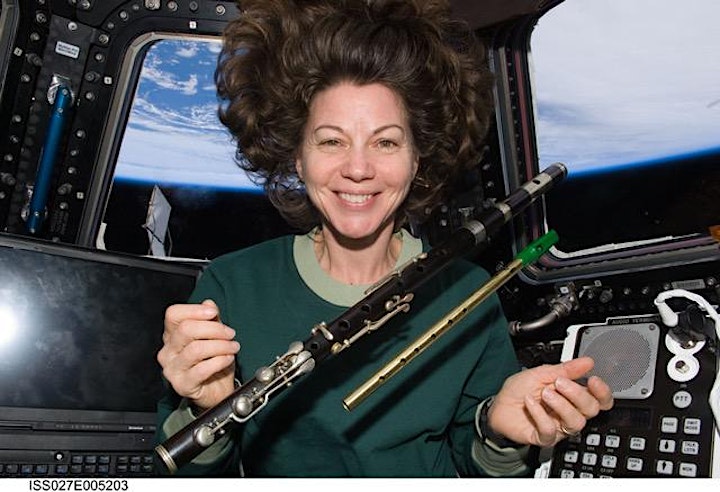 Not very many people have played music in outer space. Western Mass astronaut, Cady Coleman and two of her Bandella bandmates have all played aboard NASA's International Space Station (ISS), while orbiting 250 miles above our Earth.
Cady performed a flute duet with Jethro Tull's Ian Anderson on the 50th anniversary of human space flight - from space. Canadian astronaut Chris Hadfield performed a version of David Bowie's "Space Oddity" on the ISS, which has over 40 million views on YouTube. UC Davis professor and astronaut Steve Robinson played his guitar on both the ISS and the Space Shuttle while weightless, performing for his crewmates.
Bandella, a popular band from Houston TX, has been performing for over 16 years. They'll make their Massachusetts debut on Saturday, July 27th at Hawks and Reed in Greenfield (Doors open at 6:30 pm). Bandella is made up of three astronauts and the spouse of an astronaut on lead vocals. With acoustic guitars, jazz flute, inspired vocals, occasional banjo, and stand-up bass, these aerospace musicians entertain with a mixture of folk originals, re-imagined '70s/'80s folk/rock standards, bluegrass, and jazz.
"Bandella was formed in a basement bar in Star City, Russia in 2003," notes Hadfield. Hadfield, Robinson, and oleman all trained with the Russian Space Program, before flying onboard NASA's International Space Station. "We've played all over-- Kansas City, Star City, Canada, even linked from Earth while band members were out in orbit. And, of course, Bandella has played all over Houston."
About the Band's Musicians:
Chris Hadfield is a retired Canadian astronaut and bandleader, singer, rhythm guitarist, and long-time folk musician. He recorded Space Sessions: Songs From A Tin Can on the ISS, which was released in .
Cady Coleman is a retired NASA astronaut and accomplished flutist, who presently plays with several local Pioneer Valley groups. In addition to her space duet with Jethro Tull, she brought flutes to the space station for the acclaimed Irish band, The Chieftains.
Micki Pettit is married to a NASA astronaut and brings a big jazz-&-show tune voice to every show.
Steve Robinson is a retired NASA astronaut, Sacramento native, UC Davis professor, and multi-instrumentalist on acoustic lead guitar, banjo, and stand-up bass.
Dave Webb is a long-time friend of the band and is sitting in on keyboards.
View some of the artists' performances from space:
Cady Coleman's Duet with Jethro Tull: https://www.youtube.com/watch?v=XeC4nqBB5BM
Chris Hadfield, Space Oddity: https://www.youtube.com/watch?v=KaOC9danxNo&fbclid=IwAR1jnvJNgkW39ryj6_V9w8EgzDIZs2qZEnSJ_tAEd_TM79LN11NorcOZkac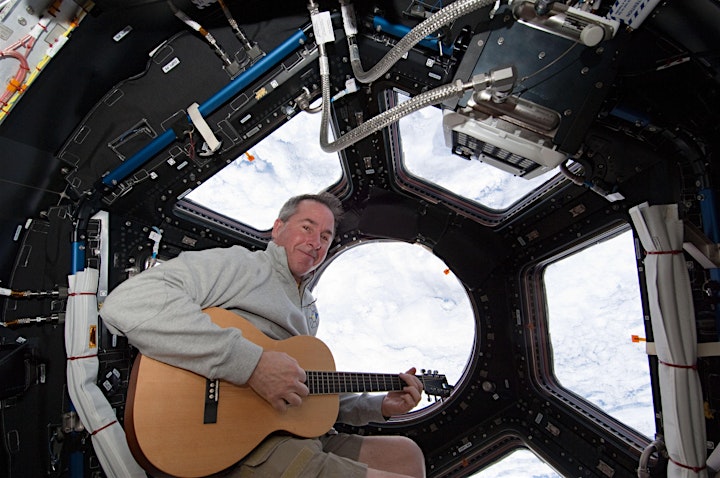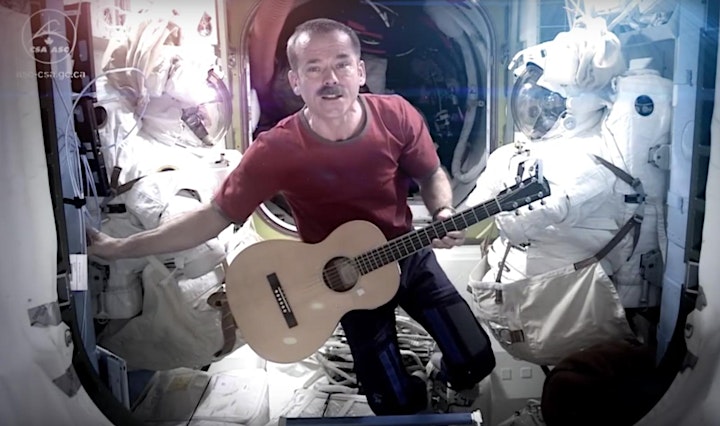 Venue Information:
Hawks & Reed Ballroom
289 Main St.
Greenfield, MA, 01301